Hi Everyone,
Sorry it's been a while between updates - we've been busy preparing live material for the tour later this year, and also working on a new release.
That's right, there's going to be a new release in the first quarter of this year. I promise we'll get you some details very soon.
Also, speaking of preparing live material, don't forget that we have a Sydney show coming up in a couple of weeks at the Bald Faced Stag in Leichardt. There'll be bands on both the main stage and the front bar that night so it should be a really great night with heaps of music to enjoy.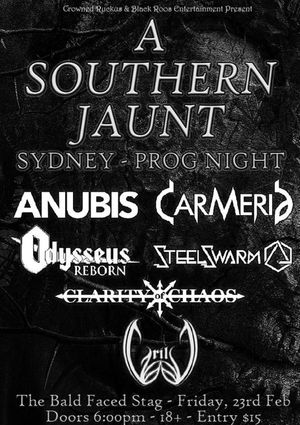 Tickets are $15 and will be available at the venue.
While we're on the subject of tickets - We've been asked about when tickets will be on sale for our show at the Boston Music Room in London, and at this stage we're still not sure. As soon as we have the details though, we'll let you know right here as well as adding a link to the gig listing elsewhere on the site.
For the other gigs on the tour you can get your tickets HERE for the show at T'Blok in the Netherlands, and HERE for the Night of the Prog festival at Loreley, Germany. We'll also have some very good news for our friends in France shortly - watch this space.
Lastly, we stumbled on this review of the Second Hand this week,
We'd like to thank Notes Reviews for such a positive review, and thanks for spreading the word.