Hey everyone, 
Thanks for sticking with us through our relative silence these past few months. As you know, we've been busy putting together our fourth studio album, 'The Second Hand', and we're delighted to say we're now ready to hand over to you guys. It's available to pre-order and we'll be releasing it worldwide on 23rd May 2017.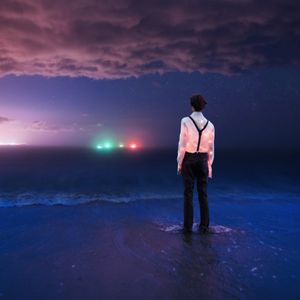 'The Second Hand' takes us back into '230503'/'A Tower of Silence' territory in the sense that it's a cinematic concept record, it has a story, the songs play like scenes from a film and has a vibe and atmosphere that runs throughout it. 
It also channels the personal and emotional side we explored in ''Hitchhiking to Byzantium' in the lyrics, which after the events of 2016 have taken on a very dark tone. We do indeed live in a scary world, and this is our way of trying to make some sense of it. 
The old news media, print and television, have moved to so far toward sensationalism in such an overt way in the last few years that it's almost like a terrifying reality TV show that none of us can seemingly ignore or look away from. All the time, a small number of powerful people are living like kings while the majority of the world slide endlessly toward poverty. Good people, bruised and battered, get angry, scared and with the open wound agitated by the media, look for answers from anybody who can promise them a way out.  
'The Second Hand' finds an ageing media mogul, James Osbourne-Fox, who after nearly 50 years at the top, suffers a traumatic injury and is paralysed in hospital. In this state of limbo, conscious but unable to communicate, he replays his life of greed and gain. Can he find the true meaning and essence of life? The album explores the humanity in even the very worst of people. What's actually behind all the hate, bigotry and crassness? What will it take for mankind to put aside all the darkness and find a way to be better people who can empathise with each other? 
We truly hope that 'The Second Hand' touches you. All we can say is that we've worked very hard, we're very proud of it, that Tim's cover is absolutely stunning, and that we're really, really looking forward to playing it to as many of you as possible over the next couple of years. 

Pre-orders are available now from https://anubismusic.bandcamp.com. Pre-order now and you'll get downloads of "Fool's Gold" and "The Making of Me" from the new album.
Thanks for staying aboard. Roll on 230517! 
Much Love, 
Robbie, Dave, Dougie, Dean, Anton and Steve 
ANUBIS - THE SECOND HAND 
MAY 23rd 2017 
1. THE SECOND HAND 
2. FOOL'S GOLD 
3. THESE CHANGING SEASONS I 
4. THE MAKING OF ME 
5. WHILE ROME BURNS 
6. BLACKOUT 
7. THESE CHANGING SEASONS II 
8. PAGES OF STONE 
9. THESE CHANGING SEASONS III